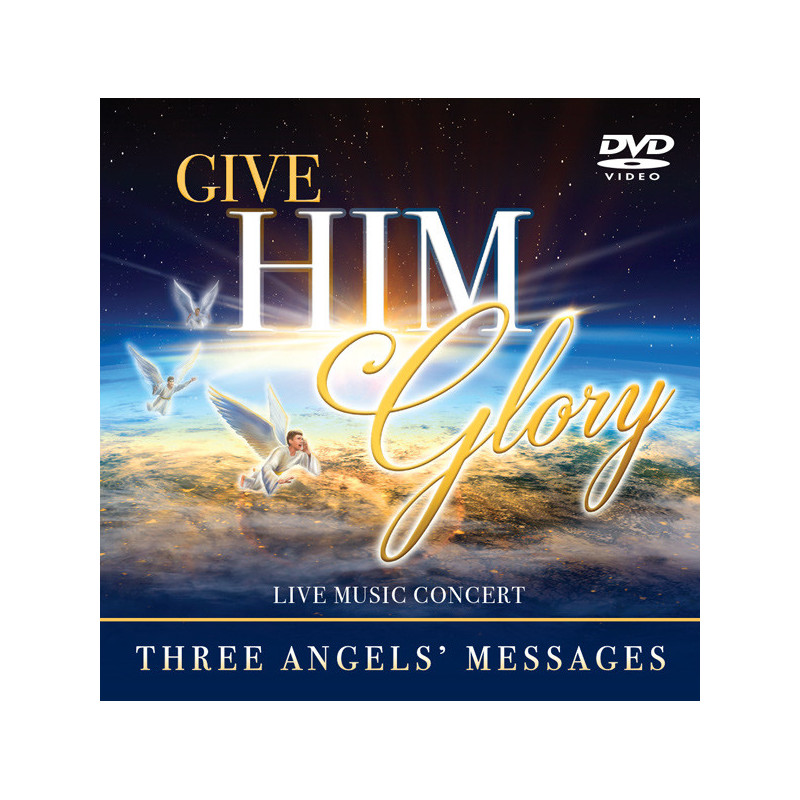  
Give Him Glory DVD
DVD orders start shipping October 1st.
As last day events are rapidly fulfilled, the proclamation of the three angels' messages of Revelation 14 becomes ever more urgent. Three Angels Broadcasting Network takes its very name from these messages and by preaching them we help lighten the world with the glory of God! Listen to these gifted speakers and join us in preaching the undiluted three angels' messages to the world. 
Give Him Glory is a DVD that will usher you into the Throne Room of God. The gifts of several composers and arrangers have been optimized in these songs, including Lanny Wolfe, Danny Shelton, David Huntsinger, Jim Gray, Russell Mauldin, Aaron Wilburn, David Clydesdale, and Kris Wilkinson. The songs are not self-promoting performances, they are a call to worship our Creator God. The 3ABN audience will be introduced to some new artists, like Ryan Day and Julie Goss. Wintley Phipps, will also be offering his powerful vocals into the mix. The Aeolians from Oakwood University, under the direction of Jason Ferdinand, are featured on this anointed project. Additionally, you'll hear many voices from our 3ABN family of artists, including Danny Shelton, Melody Shelton Firestone, John Lomacang, CA Murray, Tammy Chance, Tim Parton, and Yvonne Lewis-Shelton. Give Him Glory features lyrics derived from Scripture, elegant orchestrations, and gifted singers and musicians who will lead you into an unparalleled worship experience.
SAMPLE AUDIO
More Than Wonderful Medley (6:20) – Danny Shelton, Julie Goss, CA Murray, Yvonne Lewis-Shelton, Ryan Day & The Aeolians
Going Home Medley (4:12) – The Aeolians
That Sounds Like Home To Me (4:46) – Tammy Chance & Ryan Day
Behold, I Come Quickly (3:35) – Ryan Day, John Lomacang, Gene McDonald & Tim Parton

They Sang A New Song (4:17) – Ryan Day & The Aeolians

Lord, I Worship You (4:32) – Melody Shelton-Firestone

Give Him Glory (4:37) – Yvonne Lewis-Shelton, Danny Shelton, Melody Shelton-Firestone & The Aeolians

Jesus, We Crown You With Praise (4:16) – Julie Goss

Glorious Church (6:25) – Wintley Phipps & The Aeolians

Lord, We Praise Your Name (5:17) – Yvonne Lewis-Shelton & The Aeolians

Data sheet
Special Note

DVD orders start shipping October 1st

Ministry

3ABN

Music Project

Give Him Glory

Format

Video DVD

Language

English