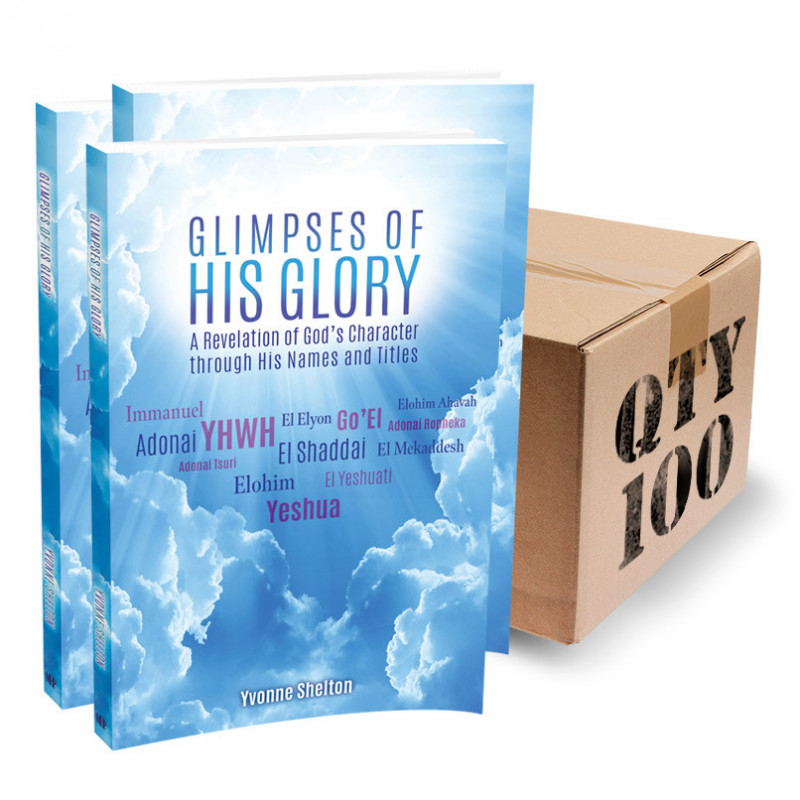  
Glimpses of His Glory - Case of 100
Glimpses of His Glory: A Revelation of God's Character through His Names and Titles
This beautiful new book by Yvonne Shelton focuses on how God's names and titles reveal His amazing character. Her stories of changed lives will amaze and inspire you to desire an intimate bond with God, and heat up your spiritual temperature from lukewarm to fiery!
This is for a case of 100 books. Individual copies available for any size donation here.

For International orders please contact us for shipping cost.
In this book you'll read about these people and more:
An entertainment writer once invited assistance from the spirit world. Later he reached out to Elohim, God the Creator, and discovered his real purpose.


A former hit man for a drug cartel was forever changed by El Mekaddesh, the God Who Sanctifies


The musician and substance abuser had unstable and empty relationships. He made a complete U-turn when El Elyon, the Most High God, intervened on his behalf.


The suicidal drug abuser's life was topsy-turvy until she experienced Go'El, God her Redeemer.


The sex addict thought that his lifestyle was indelible. When he encountered YHWH Tsidkenu, the Lord his Righteousness, he was forever changed.


Do you want a personal relationship with God? Are you interested in getting to know Him on a deeper level? Then this book is for you! With Glimpses of His Glory you will be able to:
Create an intimate bond with God


Enhance your prayer life


Experience a more in-depth understanding of His character through the use of His sacred titles


Appreciate the many ways in which He manifests Himself in your life and the lives of others


Heat up your spiritual temperature from lukewarm to fiery


Glimpses of His Glory is designed with your spiritual enrichment in mind. Once you read it and put the suggestions into practice, YOUR RELATIONSHIP WITH GOD WILL NEVER BE THE SAME!
Data sheet
Pages

100

Author

Yvonne Shelton

Cover

Paperback

Format

Physical Book

Language

English

Type

Book
Case

Binding

Perfect Bound